Logging In
Using an email invitation
Email invitations are the most common method of accessing and viewing a OneRoom stream. These are organised and distributed by the funeral directors and next-of-kin.
If you've got an Invitation email, look for the 'View Service' button on the email, as seen below:



This button will take you straight into the live-stream page (scroll down for more info below)
Using a direct link
An alternative method of logging in is using a direct link. This link is again usually distributed by funeral directors, or the next of kin, and can also be found on the invitation emails mentioned above.
Clicking the link will lead you straight to the live-stream or recording.


I haven't received any login information or email invitation - what do I do?
Please contact the funeral home or funeral organizers that are arranging the service. For privacy reasons, OneRoom cannot provide any login details.
The live-stream page
If you open the live-stream page before the service starts, you will see a 'stream pending' page, such as the two examples below: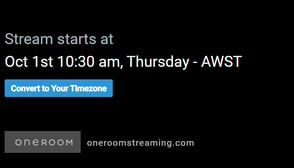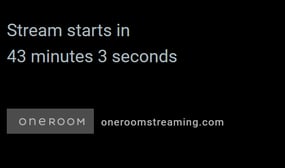 You do not need to click anything on this page. The stream will start automatically once the scheduled start time is reached, or when the countdown timer reaches zero.
If you access the live-stream page after the live-stream has already started, you will be taken straight into the live-stream and will see the service taking place.
If you access the live-stream after the live-stream has finished, you will be taken to the recording of the live-stream and will be able to watch it from the start. This is usually available for 90 days*


*Families or funeral directors may wish to have a live-stream recording removed before 90 days, so this option is not always available.
New to streaming? Watch this quick instructional video.